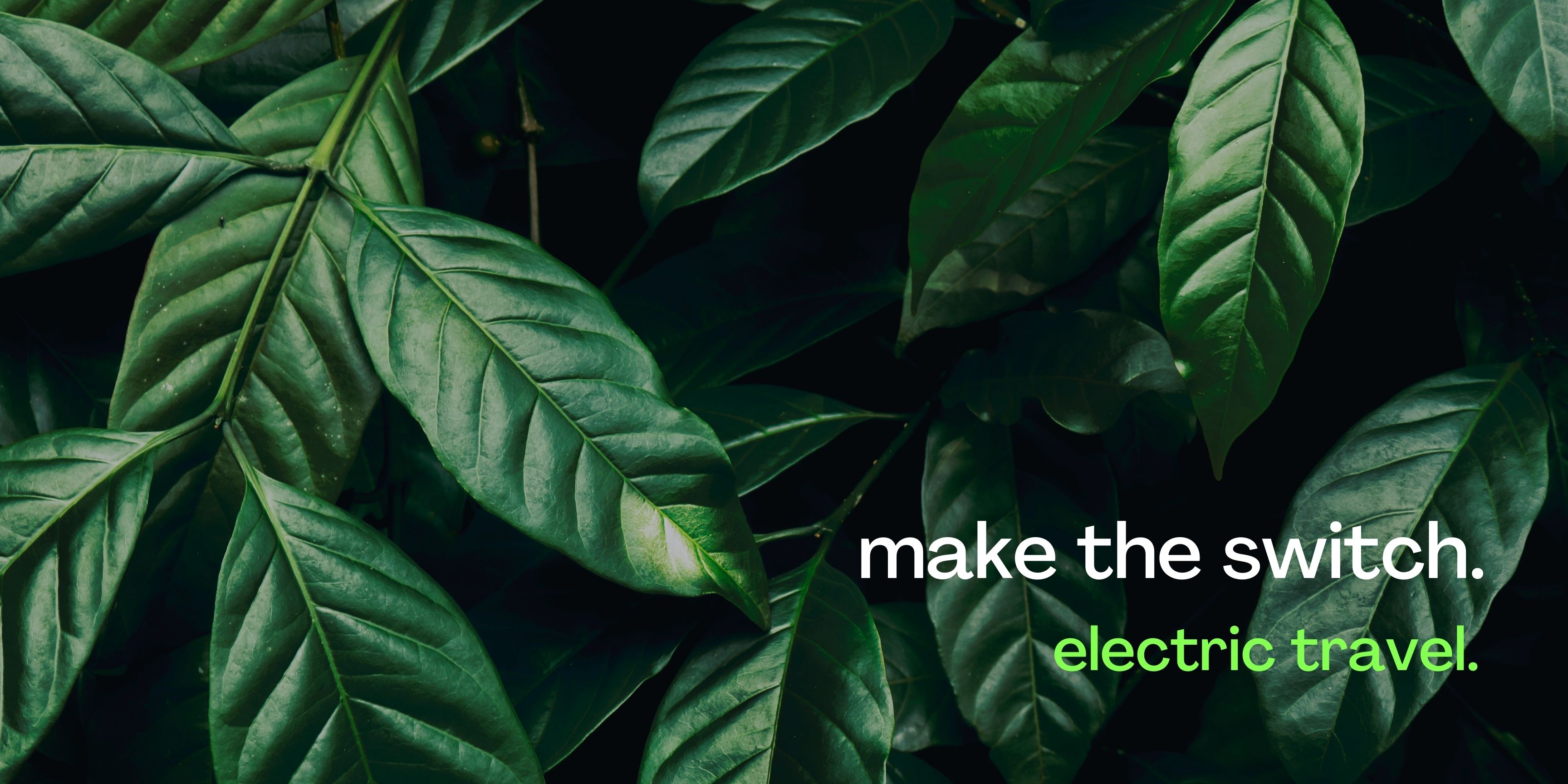 Electric Joy
Electric bikes help assist your pedalling through the use of a motor. Usually these motors are rated to 250W and 15.5 mph. After this speed, the motor will stop assisting.
Electric bikes are popular with commuters, families and holiday makers and are a great way to get back outside and moving again.
eBikes are a fantastic way to get back into doing activity without the intimidation of intense exercise.
See The Benefits
Quicker Journeys
eBikes solve the long standing issue of wanting to ride to work but not arriving sweaty.
Charge Anywhere
The batteries on both the Bat Cycles & Pax eBike models can be easily removed and charged anywhere.
Safer Travel
Getting away from traffic lights is easier, making you feel more confident you can keep up with other road users.
Keep Healthy
You still have to pedal to keep the bike moving, and over time you will see health benefits.
Reduce Pollution
A zero emission form of transport helping the environment one bike at a time.
Minimal Maintenance
A full charge will cost pennies making this one of the most affordable ways to travel.
Great For Beginners
Electric bikes take the strain out of pedalling and can get you up to traffic speed easier and quicker.
Quicker at traffic lights
Electric bikes help you get up to 15mph without assistance, meaning no stumbling at the lights
Easier hills, less sweat
The extra push up a hill can avoid you arriving at work in a pile of sweat
Still gives you exercise
They don't do everything for you, and you'll still need to pedal! You can still get that heart going but just at a more civilised pace.
How The Motor Works
There are three areas a hub motor can be placed & these affect the delivery of power with each have their own benefits.
Rear Mounted
By being on the hub of the wheel, power is delivered directly into the wheel and is far more efficient than a mid-mounted motor. It also helps balance weight of the bike between motor, battery and rider, giving a sportier and more controlled ride experience. The chain is driving the rear wheel, which is how conventional bicycles work and thus can be a more natural ride style.
Mid Mounted
Having the motor in the centre and lower down on the bike helps with lowering the center of gravity and gives good balance. Mid mounted motors often have higher torque ratings thanks to being located directly on the crank where you are pedalling but also results in higher energy being required to achieve the same as a hub motor due to the indirect power delivery.
Front Mounted
A front mounted motor pulls you along similar to a front wheel drive car, leaving you to pedal and power the rear wheel. They are generally considered a budget option, thanks to their simplicity. However, this particular setup does give you the added benefit of being easier to change and access.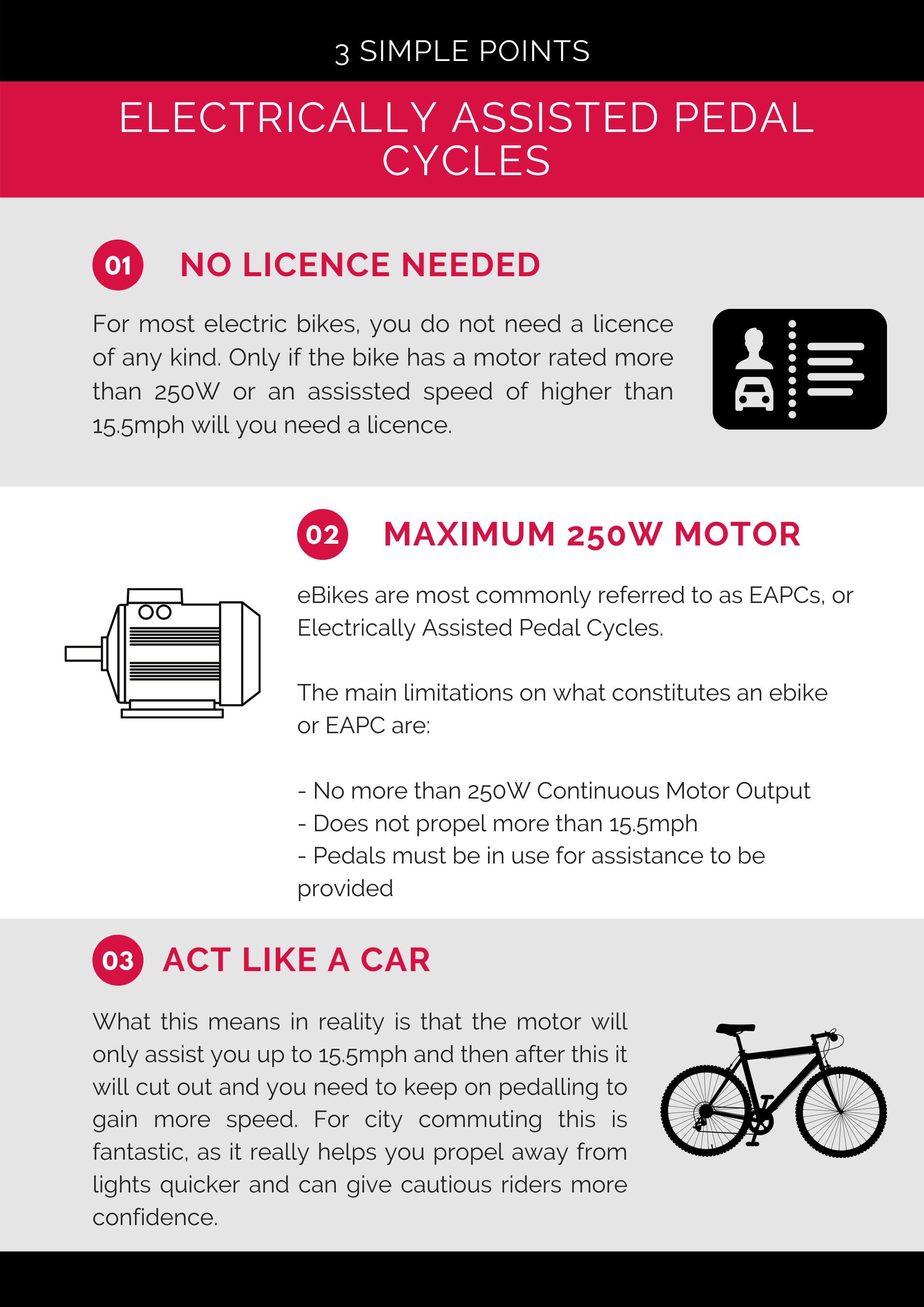 Any ebike that is capable of a speed in excess of 15.5mph or has a motor rating above 250w is generally referred to as a as a speed pedelec, or s-pedelec. In the UK these bikes are classed as L1e category road vehicles and require registration with DVLA for use on the public highway.
This means the bike must have European certificate of conformity and be type approved as a L1e road vehicle.
To use on the public highway these bikes must be registered with the DVLA (have a number plate fitted), have a minimum of third party road risk insurance, the rider must wear a motorbike style crash helmet, and must have appropriate driving licence (a CBT, more info in the next section).
We do not currently sell and Speed pedeleces however, it is the riders / buyers responsibility to ensure that they comply with the legislation should you choose to buy one.