ADO A20F+
KEY FEATURES
This bike is ideal for...

Off road riding on gravel, sand & snow.
Rider heights of between 165cm - 190cm.
Rider's that weigh below 120kg.
Rider's with limited storage space.
What's included as standard?

1 x A20F+ eBike (Fender not included)

1 x 42V 2A Charger

1 x A20F+ Battery

1 x Set of Installation Tools

1 x Air Pump

1 x Mobile Phone Holder
Regular price
£999.00 GBP
Regular price
£1,069.00 GBP
Sale price
£999.00 GBP
Unit price
per
Sale
Sold out
The ADO A20F is the ultimate off-road machine for young riders looking for an adventure. With its lightweight and durable aluminium frame, full suspension system, and knobby tires, this bike can conquer any terrain. The powerful disc brakes and wide range of gears make it easy to control on steep descents and challenging climbs.
Don't let your young rider miss out on the fun and adventure. Get your hands on the ADO A20F today and open up a world of off-road possibilities!
Customer Support

Send a message to our live chat between 9 am - 5:00pm, Monday to Friday for expert customer support.
Shipping

Free delivery within 5 - 10 working days on this item.
Return Policy

To be eligible for a return, your item must be in the same condition that you received it, unused and in its original packaging. You'll also need the receipt or proof of purchase.

For more details please see the ADO Products Return Policy.
Buy Now, Pay Later

We work with PayPal to provide financing options to make all our bikes affordable for everyone.

Choose PayPal as your payment option at checkout & enjoy the ability to split your payment into 3 or 4 affordable monthly instalments.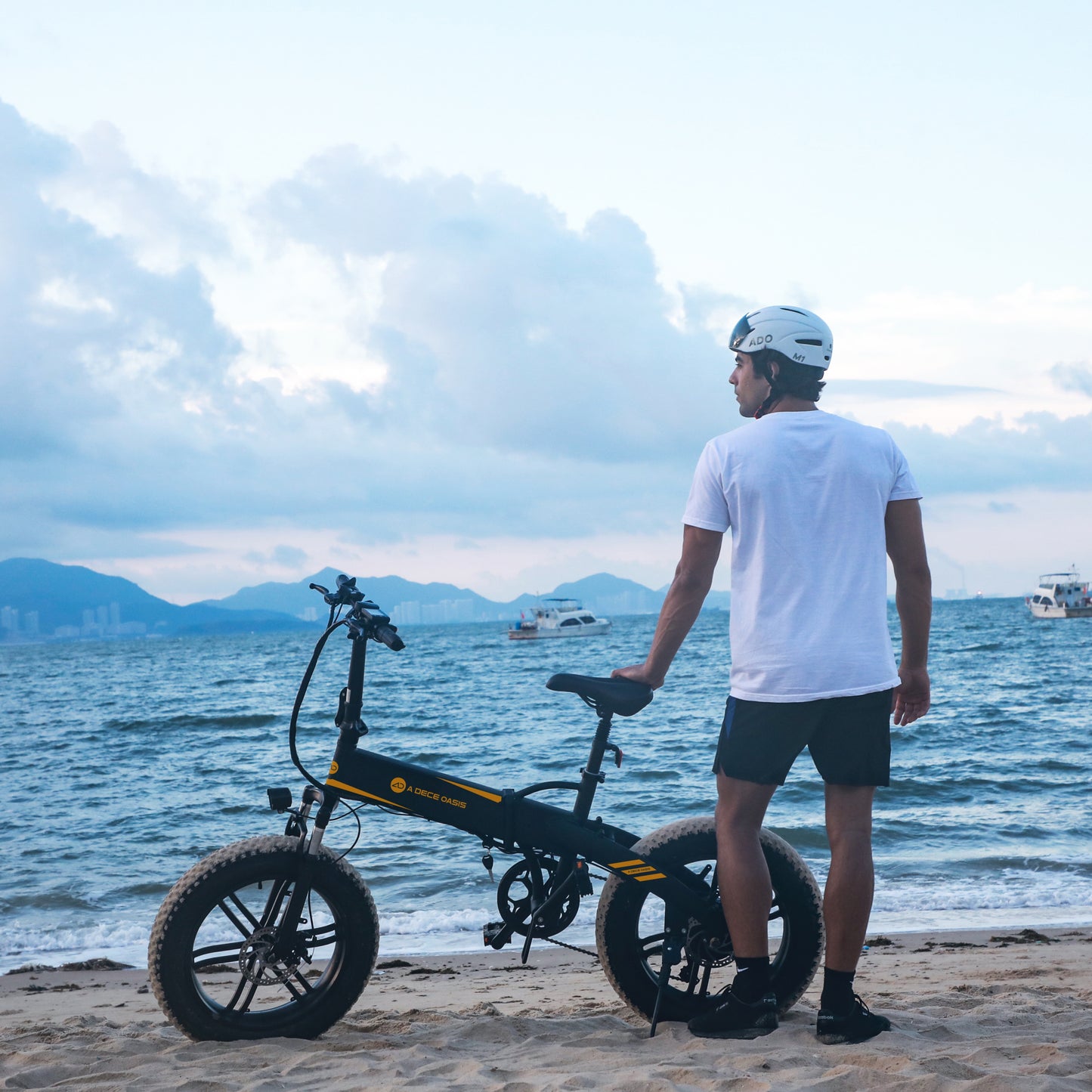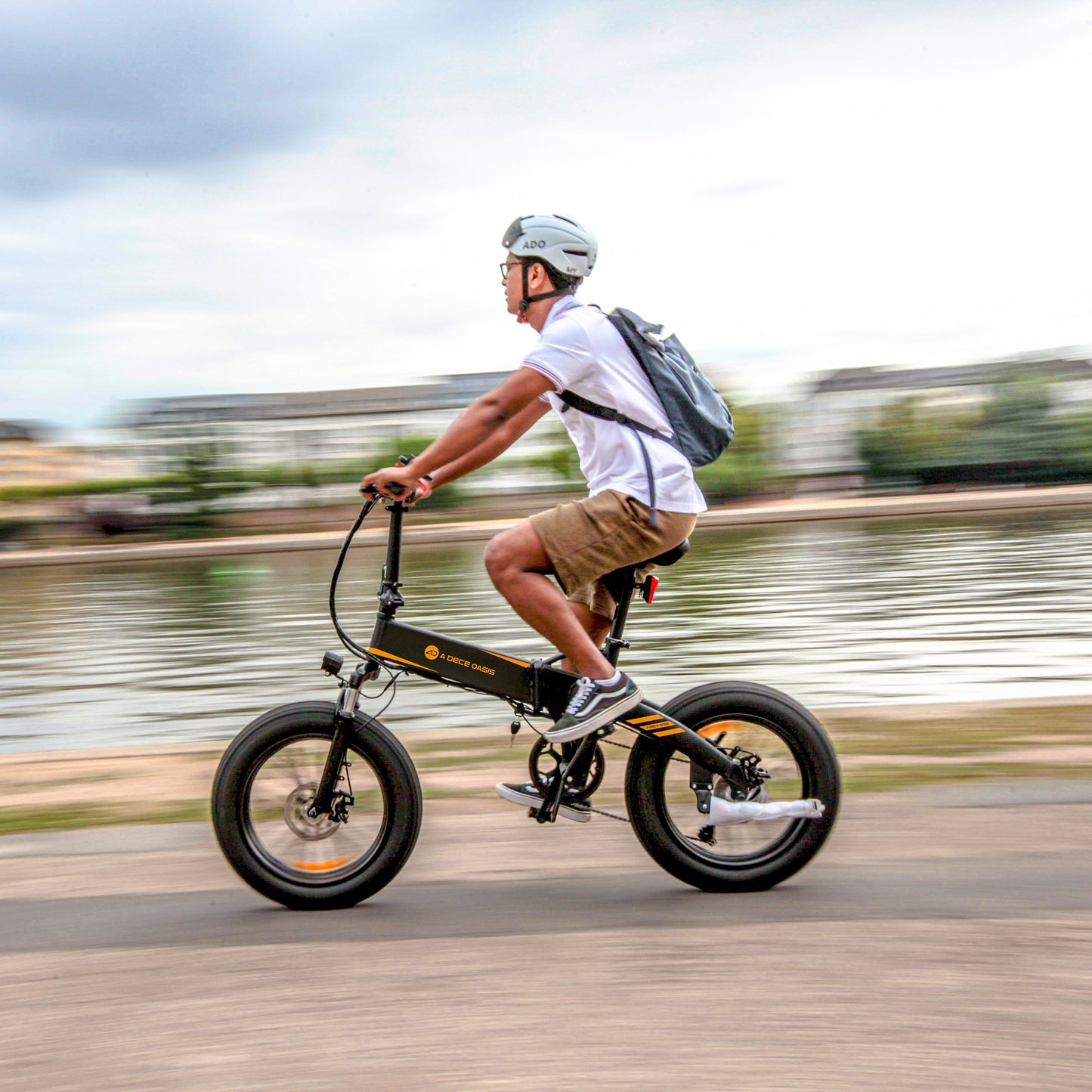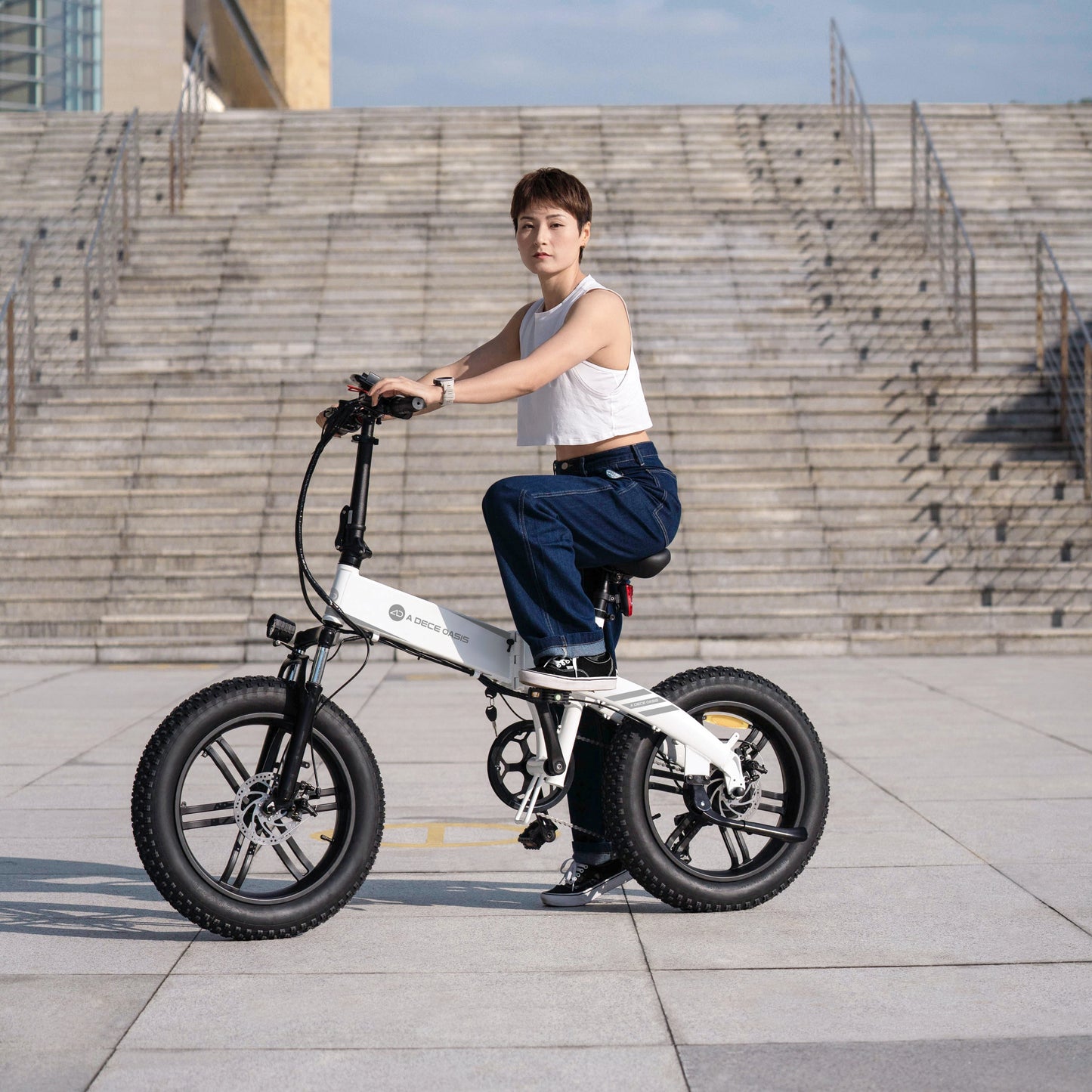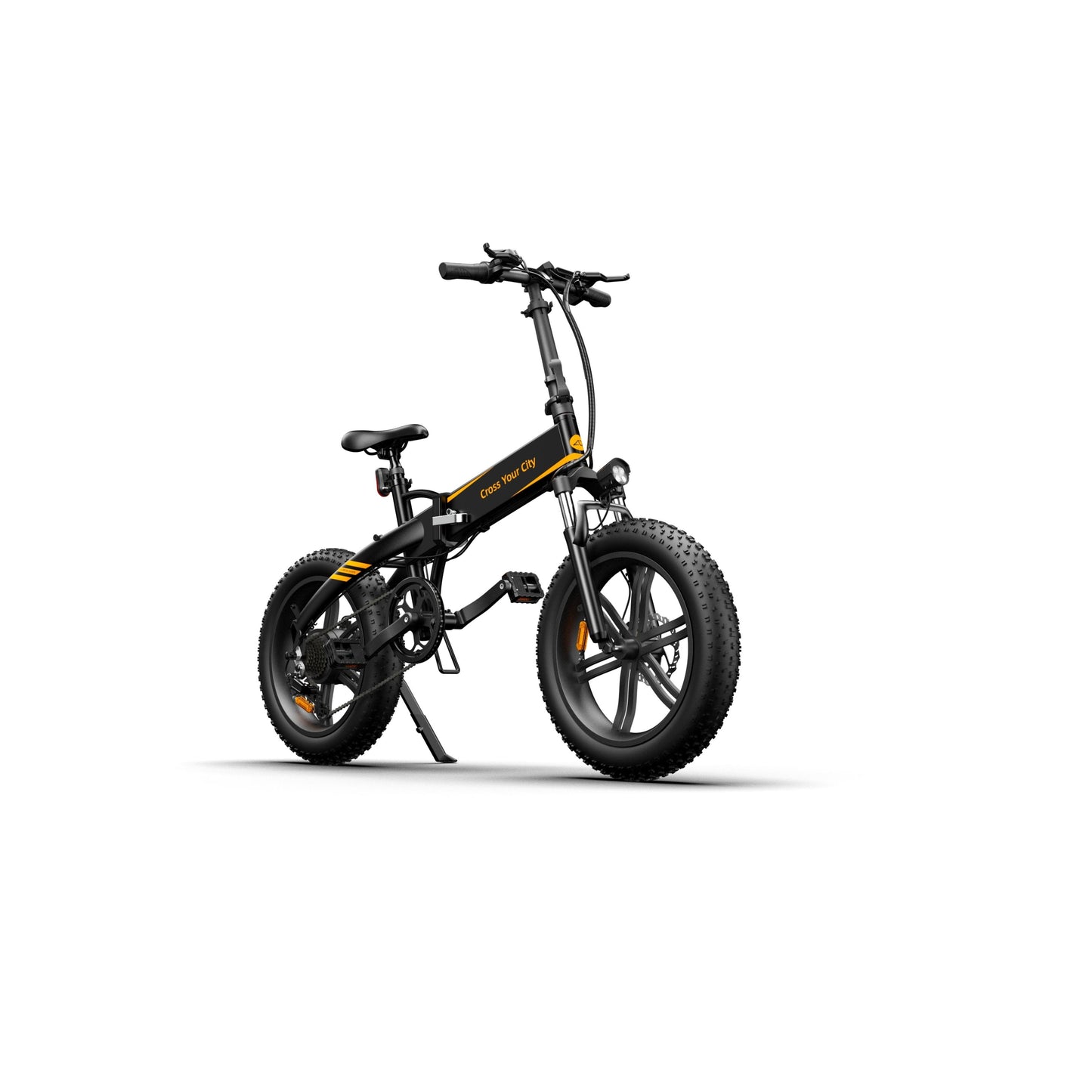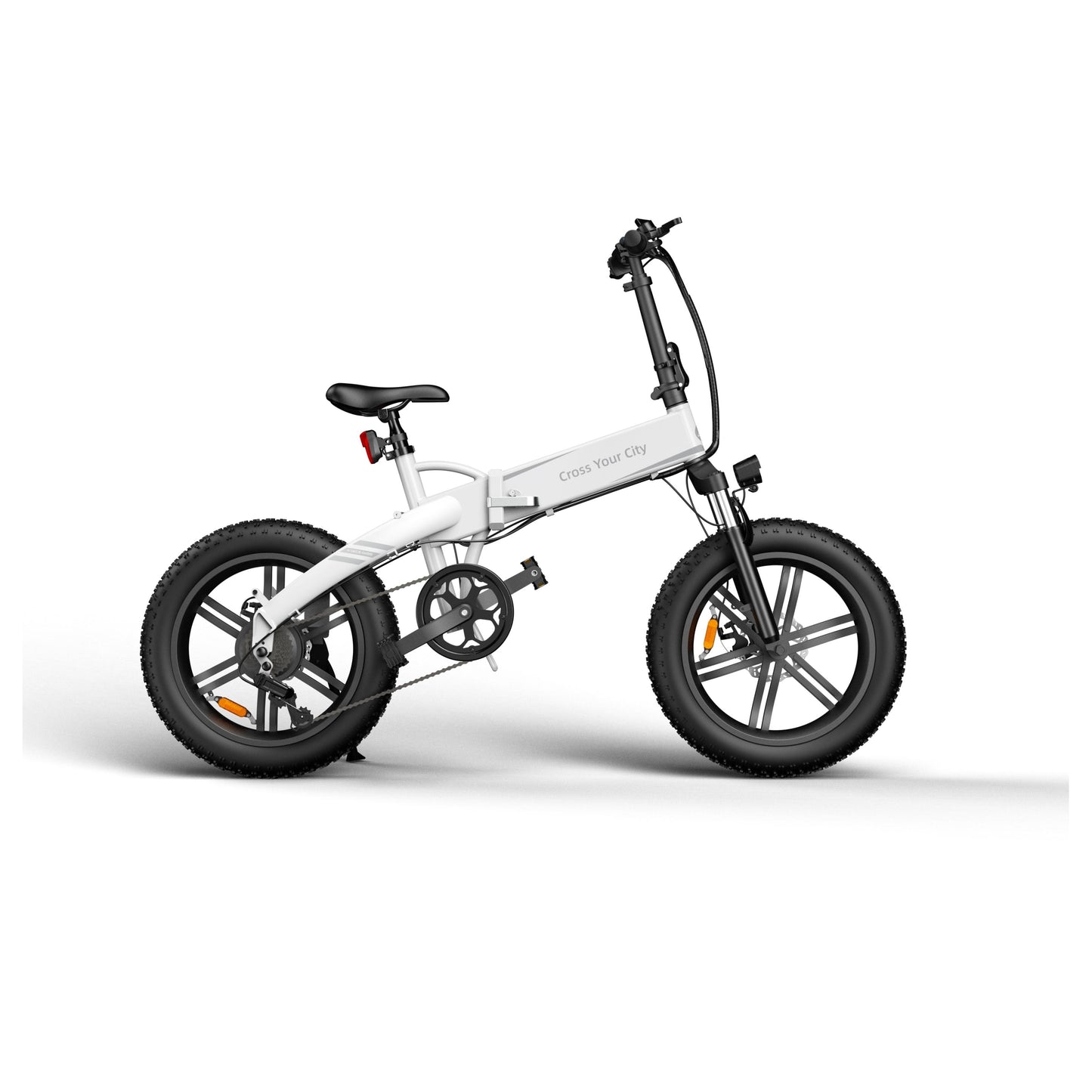 Key Features

The ADO A20F: for the adventurer in all of us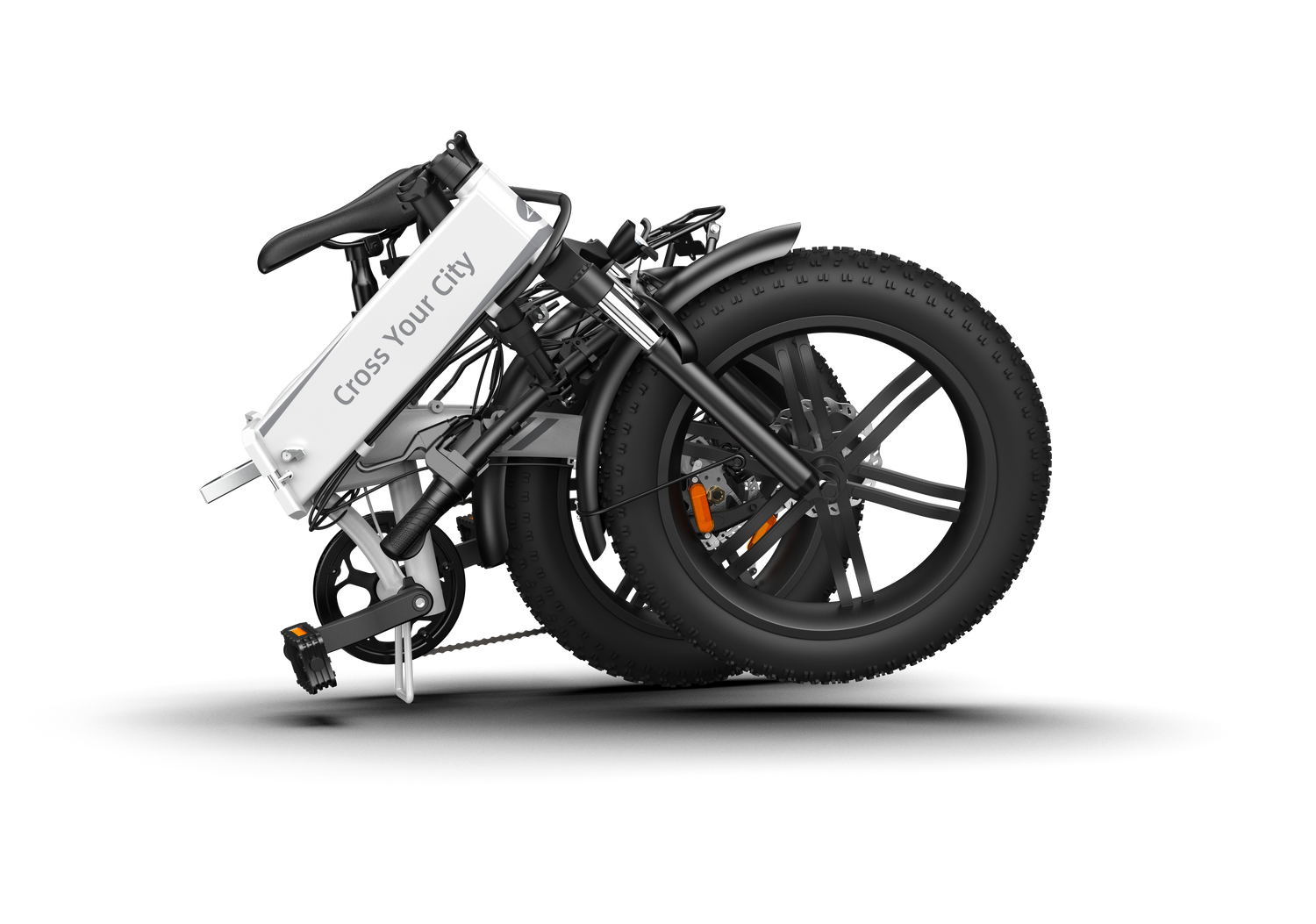 Ingenious and handy folding design
The convenient tri-fold design quickly folds in 10 seconds. You can effortlessly fit the A20F XE into the boot for an easy ride anytime, anywhere.
Ultra-light frame material, easy to lift and effortless easy access to commuting locations.
Specification
Performance

Max Speed: 15.5 mph standard speed
Motor Power: 250W standard output
Motor Type: Hall brushless gear DC motor
Gears: Shimano 7-Speed
Brake Type: Front and rear disc brakes
Suspension: Front fork shock absorber
Drive Type: Rear drive
Power Assist System: 3 gear power boost
Battery

Battery Type: 36V 10.4Ah Lithium-Ion
Electric Range: 40km(25mi)
AssistedRange: 80km(50mi)
Working Temperature: -10~50°C
Input Voltage: 100-240V
System Voltage: 36V
Recharge Time: 6-7 hours
Design

Display: LCD display
Product Weight: 29kg
Waterproof Rating: IPX5
Dimensions(UNFOLDED): 174 x 53 x 120cm 
Dimensions(FOLDED): 98 x 45 x 77cm
Wheels

Size of Tyre: 20 × 4.0 inch
Material of Tyre: Rubber
Type of Tyre: Pneumatic city road tyre
In The Box

1 x A20F+ eBike (Fender not included)

1 x 42V 2A Charger

1 x A20F+ Battery

1 x Set of Installation Tools

1 x Air Pump

1 x Mobile Phone Holder
Get a closer look.
Shimano 7-Speed Transmission

The Shimano 7-speed transmission rides very well when combined with the 3-speed adjustable power assist.

Front & Rear Reflectors

Front and rear have ISO 6742-2 reflectors to ensure safe riding at night.

IPX5 Waterproof Headlights

E-Mark certified headlight, Z-Mark certified taillight, high brightness LED headlight with wide angle lighting. Super penetrating power to help you ride safely.

HD LCD Display

The high-definition waterproof LCD display, which can still be clearly seen in sunlight, not only monitors speed and other conditions, but also allows you to switch the mode operation of the e-bike.

USB Port & Phone Holder

Stay powered up anywhere, antime. Charge whenever you like using the in-built USB port.

Shimano Derailleur

A precision component of a bicycle's drivetrain, responsible for smoothly and efficiently shifting gears by moving the chain between different sprockets on the bike's cassette.
FAQs
What is the ideal rider height for the A20F?

The A20F is suitable for riders between 165cm-190cm in height.

The maximum rider weight is 120kg.
Does the A20F have a throttle?

The A20F does not have a throttle however if you are looking to add this feature, there is a link to the website where you can buy and install it yourself:

Throttle:https://www.adoebike.com/product/ado-ebike-throttle-lever-replacement/

Rubber cover: https://www.adoebike.com/product/ado-handle-rubber-cover-for-a16-a20-a20f-a26-ebike/

Installation Guide:https://www.youtube.com/watch?v=Z7gdQA7gdlg
What is the net weight of the A20F?
What is the difference between the A20F & the A20F XE?

A20F XE Upgrade points:

1. Upgraded brake system. The single clip on the A20F+ has been chenged to a double clip allowing for smoother braking.

2. The A20F XE is equipped with iron fenders and a rear rack as standard.

3. The A20F XE also benefits from longer handlebars for more comfortable riding plus uses an upgraded mechanical bell

4. Improved lights and reflectors

5. Upgraded paint processing technique for improved design & finish
How far can the ADO A20F ebike travel on a single charge?

The exact range will vary depending on factors such as terrain, rider weight, and how the bike is ridden, but ADO advertises a range of up to 50 miles on a single charge for the A20F model.
What type of terrain can the ADO A20F ebike handle?

The ADO A20F ebike is designed for city and suburban use, and can handle most types of road conditions, including gravel roads and bike paths.
Is assembly required for the ADO A20F ebike?

Some assembly is required for the ADO A20F ebike, but it is designed to be easy for a customer to put together with the provided instructions, tools and hardware.
How do I charge the battery on the ADO A20F ebike and how long will a full charge take?

The ADO A20F ebike battery can be charged using the included charger. Simply plug the charger into an electrical outlet and connect it to the battery. The charging time varies depending on the battery's state of charge, but it typically takes around 4 hours to fully charge.
How do I know the status of my order once I have placed it?

When you place an order, you will receive an order confirmation email which includes your order number and the ordered product. After delivery, you will receive an email about the logistics order number.

If you don't receive it, you can check the spam email, or we reccomend that you contact the customer service staff at ADO directly via official@adoebike.com